Invisalign Info
By now, everyone has heard of Invisalign. We have all seen the commercials or know someone who has used the system and loved it. If you are interested in Invisalign for your treatment, schedule a consultation with our doctor to determine if it is the right option for you.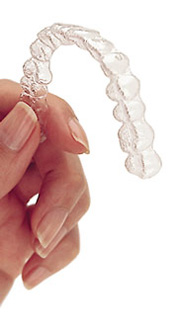 Invisalign: The Basics
Invisalign is an alternative to treatment with braces. Instead of wires and brackets, it uses clear plastic aligners that are created using 3D imaging technology, which makes treatment incredibly accurate. It can be used by adults and responsible teens and has been proven effective at straightening teeth and has been in use for over two decades.
Invisalign: The Benefits
The benefits of using Invisalign are many. The primary draw of this form of treatment is that it is invisible. However, this is just one reason to choose Invisalign. The system is also removable, so you do not need to change your diet or the way you brush and floss. They are more comfortable than traditional braces since there are no metal pieces to cause irritation. You adjust them by swapping out aligners, so you come to the office only every six weeks. Finally, the 3D imaging technology maps your treatment from start to finish, so you know what the final result will be before you even get started.
Invisalign: The Treatment
Treatment begins with 3D imaging of your dental anatomy. Based on this scan, your first several sets of aligners will be created. These are then sent to us. You come in to see us and we make certain that the first aligners are a perfect fit and all looks well. We then send you home with them. You will wear the aligners for a minimum of 22 hours a day and swap out aligners for the next set every two weeks. You see us every six weeks for us to check your progress and to get the next sets of aligners. Treatment usually lasts between nine and 15 months.
To learn more, schedule your consultation.